Our people are committed to serving the public interest — to doing research that will make a positive impact on the world.
It is not just professionalism and expertise that set our staff apart. They also have a strong commitment to a public service mission, to the quality of their work, and to the clients they serve. Loyalty and relationships link CNA's staff and, in turn, link staff to clients. Their work is more than a job; it's a career of mission-focused investigation.
Our technical staff includes a rich mix of mathematicians, engineers, physicists, economists, and specialists and scholars in international relations, education, homeland security, community safety, public policy, history, psychology, computer science, and other fields of study.
To learn more about CNA from its beginnings in World War II to the cutting-edge work of its analysts today, view the video "Think CNA". Also, watch the video "CNA in the Community" to see how CNA employees are making a difference in the quality of their communities and in the lives of their friends, neighbors, and the many who are in need.
Research Staff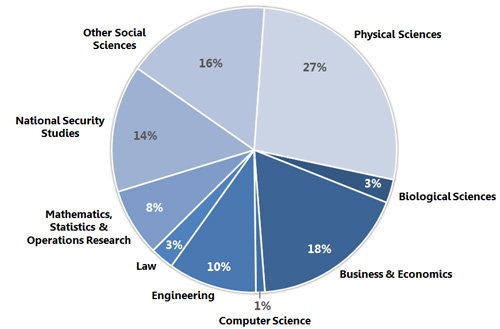 ---
Drawing on a large, multi-disciplined staff, CNA forms teams that are able to view the whole problem, the whole structure, and the whole organization in ways that allow for the integration of complex multi-disciplinary analyses. This also allows for bridging the gaps that often exist between policy makers and operators, between scientists and engineers, and between headquarters and the field.
Trained at the nation's leading academic institutions, nearly all our analysts hold advanced degrees—over 66 percent hold Ph.D. or Doctorate degrees. Project directors draw on the expertise of staff members from throughout CNA to build exactly the right team for a given job. Our rich mix of backgrounds, interests, and perspectives provides intellectual stimulation, fosters creativity, and creates a synergy that enables teams to consider all aspects of an issue. We also draw on expertise from other government and private research organizations when needed to further understand our clients' problems. Scientific rigor, an empirical approach, and quantitative techniques are the common threads that unite the disciplines and individuals.
Employee Statistics
Approximately 300 researchers
98 percent of research staff have advanced degrees
Over 66 percent hold a Ph.D. or Doctorate degree
35 percent of the research staff have field-based experience
---
CNA is an Equal Opportunity / Affirmative Action Employer committed to diversity in the workplace.