In recent decades, CNA analysts have received nearly 100 service awards from the Department of the Navy and other elements of the Department of Defense. We honor some of those recipients here.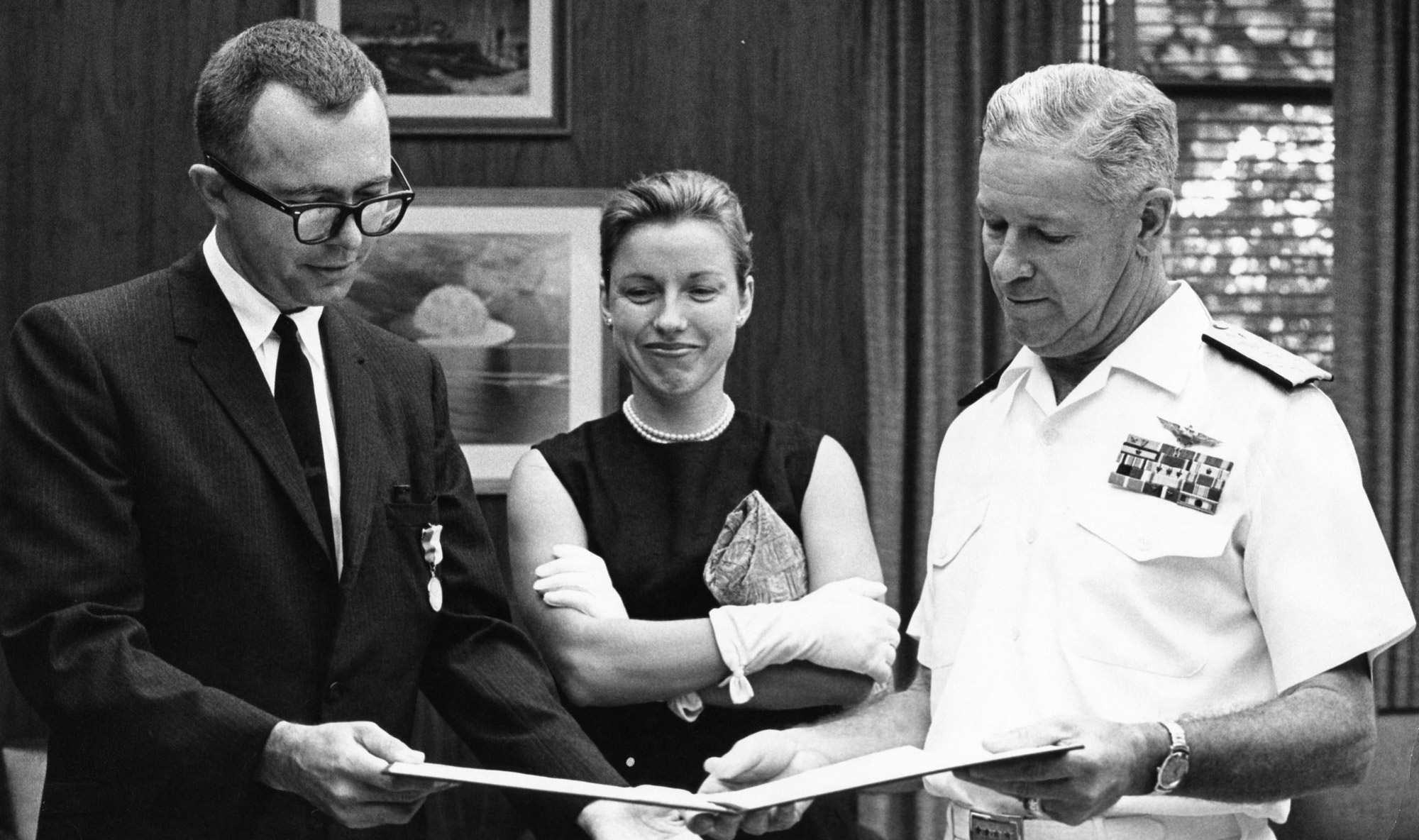 DEPARTMENT OF THE NAVY
DISTINGUISHED PUBLIC SERVICE AWARD / DISTINGUISHED CIVILIAN SERVICE AWARD
George Haering 1965
Gerald Marin 1978
Bill Sims 1980
Tony DiTrapani 1982
Tony DiTrapani 1987
Phil DePoy 1989
James Colvard 1996
Gary Federici 2003
Bob Murray 2015
Assistant Secretary of the Navy John Young recognized Dr. Gary Federici at a Pentagon ceremony for his career-long role as a leader in the development of naval space policy, particularly for providing analytical support to naval participation in national reconnaissance.
SUPERIOR PUBLIC SERVICE AWARD/ SUPERIOR CIVILIAN SERVICE AWARD
Bill Sims 1987
Dennis Gallus 1989
Sam Kleinman 1989
Brad Dismukes 1991
Katherine McGrady 1993
Bill Wallace 1994
Mike Cala 1995
Igor Mikolic-Torreira 1996
Ralph Passarelli 1997
Greg Swider 1999
Mike Smith 2000
Greg Cox 2001
Don Cymrot 2001
Gregory Suess 2001
Mike Smith 2002
Robin Holliday 2005
William Morgan 2005
Michael Bowes 2005
Eric Christensen 2005
John Crossen 2005
Ron Nickel 2005
Jessica Oi 2005
Jed Snyder 2005
Jed Snyder 2008
John Bentrup 2009
Susanne Wirwille 2010
Peter Groves 2012
William Morgan 2018
Robin Holliday doggedly questioned the accuracy of Tomahawk strike reports from Desert Storm — and the accuracy of the missile itself. As leader of the TLAM Effectiveness Project, she continued these studies through the 1990s, as Tomahawk performance improved in the Balkans and Iraq. Admiral Stan Arthur came to CNA headquarters to present her award for this work.
MERITORIOUS PUBLIC SERVICE AWARD / MERITORIOUS CIVILIAN SERVICE AWARD
Ervin Kapos 1969
Charles Heider 1982
Dave Perin 1987
Ferd Neider 1988
Scott Comes 1991
Mark Geis 1994
Bob Murray 1994
Allen Zeman 1994
Steve Belcher 1995
Bob Adams 1996
Jeff Miers 1997
Keith Costa 1998
Clifford Hansen 1998
Larry Lynn 1998
John Keefe 1999
Larry Lynn 1999
Dwight Lyons 1999
John Bentrup 2000
Neil Carey 2000
John Wilson 2000
Del Gilmore 2001
Michael Stumborg 2001
Steve Belcher 2002
John Clifford 2003
Jason Thomas 2004
Omer Alper 2005
Steve Belcher 2005
Richard Sperling 2005
Dave Kelly 2005
Jack Keenan 2005
Lyntis Beard 2005
Brent Boning 2005
Ken Kennedy 2005
Tom Bowditch 2006
Michael Macedonia 2006
Kathleen Ward 2007
Mark Lewellyn 2008
Reid Smith 2009
Dan Whiteneck 2009
Kim Hall 2010
Scott Young 2011
Ted Cavin 2012
Ian MacLeod 2013
Ciro Lopez 2014
The citation presented by Rear Adm. George Ballance to field representative Dr. Ciro Lopez states, "… you developed many of the command's innovative operational and experimental undertakings … directed the successful execution of the proof-of-concept demonstration with the Navy's MZ-3A airship, showing applicability to the countering illicit trafficking mission set … cemented U.S. Naval Forces Southern Command/U.S. Fourth Fleet as the 'Theater of Innovation.'"
DEPARTMENT OF DEFENSE
DISTINGUISHED PUBLIC SERVICE AWARD / DISTINGUISHED CIVILIAN SERVICE AWARD
Tony DiTrapani 1989
Phil DePoy 1990
Sherri Goodman 2001
OFFICE OF THE SECRETARY OF DEFENSE
OUTSTANDING PUBLIC SERVICE AWARD
EXCEPTIONAL PUBLIC SERVICE AWARD
Ted Cavin 2002
Megan Katt 2016
Maria Kingsley 2023
CHAIRMAN OF THE JOINT CHIEFS OF STAFF
OUTSTANDING PUBLIC SERVICE AWARD
JOINT CIVILIAN SERVICE COMMENDATION AWARD
Tom Neuberger 2003
Allen Hjelmfelt 2002
JOINT CIVILIAN SERVICE ACHIEVEMENT AWARD
After more than a year as the CNA field representative to U.S. Indo-Pacific Command, Hjelmfelt received his award for work as a strategic planner. The citation states, "Hjelmfelt's drive and selfless service advanced United States warfighting planning, by seeing through to completion the creation of the first Indo-Pacific Command Warfighting Concept."
DEPARTMENT OF THE AIR FORCE
MERITORIOUS CIVILIAN SERVICE AWARD
DEPARTMENT OF THE ARMY
OUTSTANDING CIVILIAN SERVICE AWARD