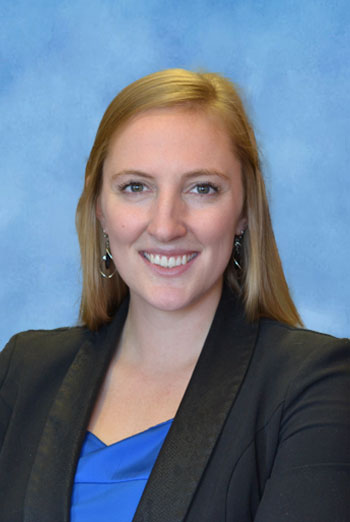 Mallory Ladd, Ph.D.
Research Scientist
Mallory Ladd specializes in joint all-domain training and readiness, Arctic science and maritime operations, and contested logistics. Her research focuses on the employment of operational concepts to inform future strategy, capabilities, and force structure and development.
Ladd has served as an embedded CNA analyst at the Office of the Chief of Naval Operations and as a CNA field representative to the Carl Vinson Strike Group during an eight-month deployment in the western Pacific, where she provided analysis on the first operational employment of the F-35C fighter and the tilt-rotor CMV-22B Osprey. Recent projects she has directed or contributed to include assessments of maritime logistics in the European theater in response to the Russia-Ukraine war, global integration across combatant commands, the readiness of fleet cyber protection teams, and two congressionally-mandated studies on the oceanographic survey ship fleet and Arctic naval infrastructure.
Ladd was a 2022 MIT Seminar XXI Fellow and a 2021 Newport Arctic Scholar. She has received CNA's Deployer Award, was on a team that received the CEO's Teamwork Award. She leads CNA's Arctic Community of Interest. Prior to joining CNA, Ladd was a National Science Foundation Graduate Research Fellow at Oak Ridge National Laboratory. She holds a doctorate in analytical chemistry from the University of Tennessee and a Bachelor of Science in chemistry from the University of Toledo.
Areas of Expertise