Supply Chain Resilience and the 2017 Hurricane Season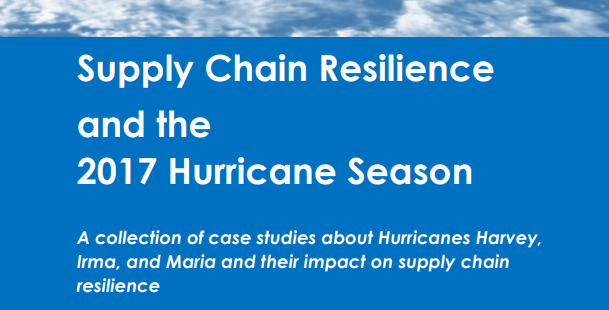 DETAILS
Copyright: CNA Corporation
Pages: 164
Document Number: IRM-2018-U-018098
Year: 2018
RESEARCH QUESTION
How do private supply chains actually function on the ground after disasters, and can government relief help—rather than hinder—their recovery in a way that can improve outcomes for disaster survivors?
Following the 2017 hurricane season, CNA analysts were on the ground with warehouse managers, truckers, water supply engineers, FEMA officials and shopkeepers with one goal: to get a real picture of how supply chains for food, fuel and water react in the aftermath of disaster. This data collection effort took them to Texas, Florida, Puerto Rico and the U.S. Virgin Islands. Their report, produced for the National Academies of Sciences, Engineering, and Medicine tells the story in a series of case studies that illustrate how public and private supply network fail and succeed, including:
The San Juan grocery distributor who was supplying Puerto Rican stores with 7 times his ordinary daily volume within 8 days of landfall
The rural shopkeeper in Puerto Rico who restocked his shelves on his own, but couldn't resurrect the electronic payments system without outside help
The disaster-relief officials in Florida who discovered—almost too late—that truck routes to Miami grind to a halt if a key cluster of truck stops is cut off from electricity or diesel
The Texas water utility managers who successfully relied upon a network of peer utilities for emergency generators, staff, water-treatment chemicals and testing—requiring little federal assistance
The Jacksonville truckers who found stations running dry in the days before Irma hit, even though fuel was plentiful upstream, because the terminal racks that load tanker trucks couldn't keep up with demand
Key Findings
Government relief operations work in parallel with private-sector supply chains that are orders of magnitude larger.
Relief networks and existing supply chain networks are surprisingly unaware of each other's actions during recovery.
Sources and methods are available that would provide the government greater awareness regarding the status of demand and supply networks, and allow for more precise targeting of resources
If emergency managers prepare for real-time monitoring of existing demand and supply networks, they can find opportunities to relieve logistical bottlenecks and help speed restoration, redirection, and surge of private supply chains – potentially reducing the demand for government services and delivering better outcomes to disaster survivors.
CASE STUDIES
Case Study 1: Retail Resilience in Puerto Rico
Findings related to the surprising strength and adaptability of fuel, grocery, and other private sector supply networks after Hurricane Maria.
Case Study 2: Static on the Relief Channel
Findings related to public sector efforts to feed and fuel survivors and the disconnect with private sector resilience in Puerto Rico after Hurricane Maria.
Case Study 3: Fuel and Food—Resupplying Metro Miami
Findings related to hidden interdependencies, distance, and the value of well-established protocols for fuel systems and retail distribution as Florida dealt with Hurricane Irma from evacuation through recovery.
Case Study 4: Harvey Turns on (and Then Turns Off) the Tap
Findings related to risk and resilience of public water systems after Harvey, associated interdependencies, and key resource needs for recovery.
Case Study 5: Constraints in Optimized Networks
Findings related to a number of types of strategic bottlenecks — or hourglass structures— that emerge during disasters with examples from four very different supply chains
Case Study 6: External Factors – Debris and Donations
An examination of how specific local factors not directly related to lifelines can influence the resilience of lifeline supply chains by changing the response environment, and imposing burdens on local resources needed for disaster response. (Additional case study: online-only content. Not in full report.)
Related Research
A Primer on a Domestic Catastrophic Disaster Response for the Joint Logistics Enterprise, 2017.
The Role of Groceries in Response to Catastrophes, 2017. Why the Emergency Management Community Should be Concerned about Climate Change, 2010. Support to the Hurricane Katrina Response by the Joint Force Maritime Component Commander: Reconstruction and Issues, 2006.
The research in this report was conducted by the Homeland Security and Emergency Management team in the Safety and Security division, within CNA's Institute for Public Research. CNA Safety and Security (SAS) is a national leader in supporting homeland security, public safety, and emergency operations at all levels of government. Our experts focus on improving preparedness for disasters and emergencies, increasing efficiency in operations, deciding on the best course of action in policy, and assessing performance. We apply a multidisciplinary, data-driven approach to our work, and we tailor solutions to meet the needs of each client.