CNA Safety and Security (SAS) is a national leader in supporting homeland security, public safety, and emergency operations at all levels of government.
As part of CNA's Institute for Public Research, SAS uses research and analysis to deliver solutions that improve decision-making during crisis operations and develop innovative answers to challenging safety and security problems. Our applied expertise allows first responders, emergency managers, public health and agriculture professionals, homeland security practitioners, and corporate and citizen partners to integrate risk-management policy, planning, and operations and to develop and sustain prevention, protection, response, and recovery capabilities at a national level.
Click to read more about SAS work on Climate Change and Security, Food and Agriculture, and Public Health Emergency Preparedness and Response.
View and download the SAS Capabilities Overview below.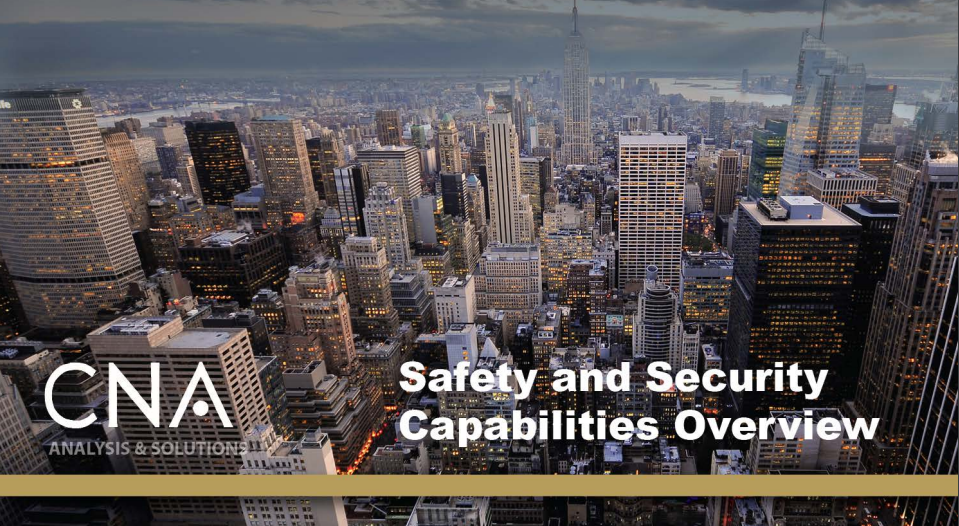 ---
SAS in the News
April 24, 2018
Denise Rodriguez says, "Sometimes officers put themselves in a position where they have no other choice but to use force."
The New York Times: "When Toronto Suspect Said 'Kill Me,' an Officer Put Away His Gun"
April 18, 2018
Highlighting new training implemented with CNA's help, the Hennepin County Sheriff's Office says, "New programs have included crisis intervention training, classroom training on initiative, implicit bias and procedural justice, cultural awareness training, and deputy wellness programs."
The Laker and Pioneer: "Sheriff Highlights Community Policing Efforts"
April 12, 2018
James "Chips" Stewart says, "It takes a person away from their family, it takes him away from the Police Department, and it also is trauma for the community. We're going to follow where the evidence leads us."
Baltimore Sun: "Panel to Study Baltimore Police Det. Suiter Killing Includes Policing Experts, Retired Detectives"
April 12, 2018
James "Chips" Stewart says, "The evidence is what the evidence is. And what we're trying to take a look at is to see whether with fresh eyes that there's any assistance that we can provide."
CBS Baltimore (WJZ): "Police Announce Panel Members Reviewing Det. Sean Suiter's Murder Case"
April 12, 2018
James "Chips" Stewart says, "This is a complicated case, and we're going to take a thorough look at this."
NBC Baltimore (WBAL): "Independent Review Board Takes on Suiter Investigation"