CNA Safety and Security (SAS) is a national leader in supporting homeland security, public safety, and emergency operations at all levels of government.
As part of CNA's Institute for Public Research, SAS uses research and analysis to deliver solutions that improve decision-making during crisis operations and develop innovative answers to challenging safety and security problems. Our applied expertise allows first responders, emergency managers, public health and agriculture professionals, homeland security practitioners, and corporate and citizen partners to integrate risk-management policy, planning, and operations and to develop and sustain prevention, protection, response, and recovery capabilities at a national level.
Click to read more about SAS work on Climate Change and Security, Food and Agriculture, and Public Health Emergency Preparedness and Response.
View and download the SAS Capabilities Overview below.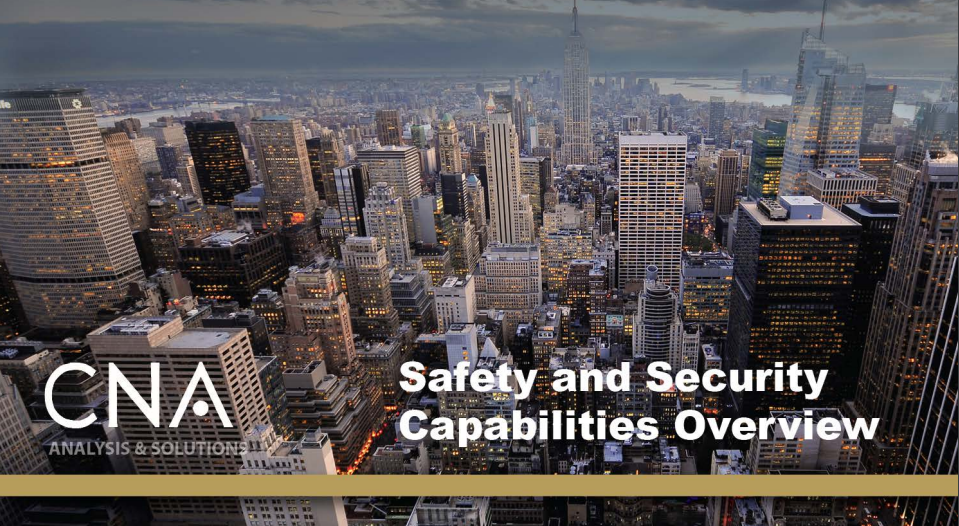 ---
SAS in the News
July 23, 2018
Michael Kofman says, "In terms of establishing viable air defenses against opponents with fifth generation aircraft, it's quite clear how Russia is trying to tackle the problem of stealth."
The National Interest: "War in the Sky: Russia's S-400 vs. America's Stealth F-35 and F-22 (Who Wins?)"
June 28, 2018
James 'Chips' Stewart says, "We have talked to a number of people in the police department, a number of people outside the police department, and we've talked to a few people from Harlem Park."
Baltimore Brew: "Homicide or Suicide? Board Probing Det. Suiter's Death Promises an Answer"
June 18, 2018
Anthony Braga, James Coldren, and Denise Rodriguez write, "Our experimental analyses found statistically significant reductions in complaints and officer use of force reports for treatment officers relative to control officers."
Journal of Criminal Law and Criminology: "The Effects of Body-Worn Cameras on Police Activity and Police-Citizen Encounters: A Randomized Controlled Trial"
April 24, 2018
Denise Rodriguez says, "Sometimes officers put themselves in a position where they have no other choice but to use force."
The New York Times: "When Toronto Suspect Said 'Kill Me,' an Officer Put Away His Gun"
April 18, 2018
Highlighting new training implemented with CNA's help, the Hennepin County Sheriff's Office says, "New programs have included crisis intervention training, classroom training on initiative, implicit bias and procedural justice, cultural awareness training, and deputy wellness programs."
The Laker and Pioneer: "Sheriff Highlights Community Policing Efforts"