CNA Safety and Security (SAS) is a national leader in supporting homeland security, public safety, and emergency operations at all levels of government.
As part of CNA's Institute for Public Research, SAS uses research and analysis to deliver solutions that improve decision-making during crisis operations and develop innovative answers to challenging safety and security problems. Our applied expertise allows first responders, emergency managers, public health and agriculture professionals, homeland security practitioners, and corporate and citizen partners to integrate risk-management policy, planning, and operations and to develop and sustain prevention, protection, response, and recovery capabilities at a national level.
Click to read more about SAS work on Climate Change and Security, Food and Agriculture, and Public Health Emergency Preparedness and Response.
View and download the SAS Capabilities Overview below.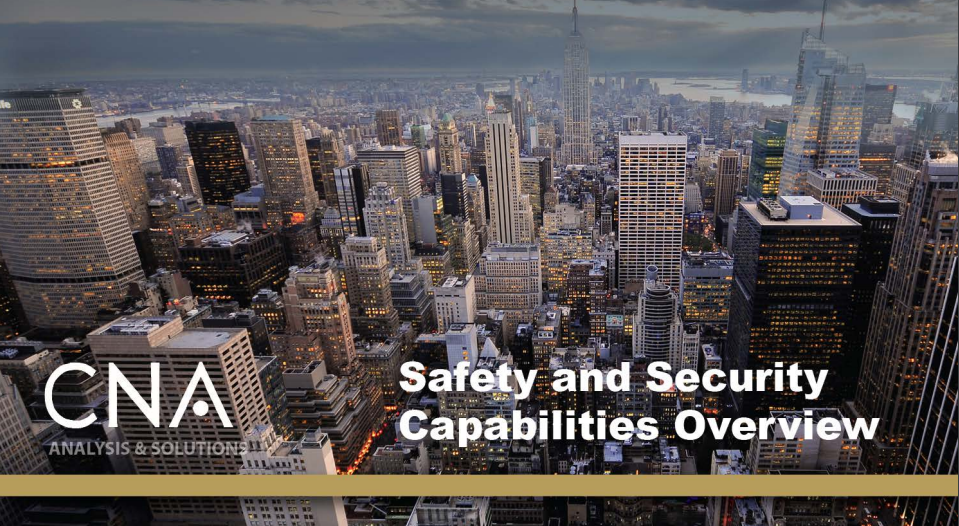 ---
SAS in the News
March 13, 2018
In 2018, CNA's Executive Sessions on Policing will take a look at Innovative Approaches to Reducing Violent Crime. On March 13, experts will convene to review how local police agencies are using innovative approaches in the use of technology, intelligence, and analytics to support their efforts to reduce violent crime.
Learn more and register here.
December 8, 2017
CNA study The Benefits of Body-Worn Cameras, "found a 37 percent reduction in the number of officers involved in use-of-force incidents and a 30 percent decrease in the number of officers with at least one complaint filed against them."
Government Technology: "Research Shows Police Body-Worn Cameras Reduce Misconduct and Cost for Las Vegas"
November 30, 2017
James Coldren says, "These results support the position that (body-worn cameras) may de-escalate aggression or have a 'civilizing' effect on the nature of police-citizen encounters."
Las Vegas Review Journal: "Editorial: Study Finds That Metro Officers Wearing Body Cameras Receive Far Fewer Complaints"
November 29, 2017
James Coldren says, "They contribute to safety, produce significant efficiencies for police departments and enhance accountability for officers and civilians alike."
Police One: "Study: Police Body Cams Reduce Use-Of-Force Incidents in Nev."
November 28, 2017
James Coldren says, "Our research supports the notion that body-worn cameras produce positive benefits for police departments and the communities that they serve."
Associated Press: "Early Study Gives Vegas Police Body-Cam Program Good Marks"