CNA Safety and Security (SAS) is a national leader in supporting homeland security, public safety, and emergency operations at all levels of government.
As part of CNA's Institute for Public Research, SAS uses research and analysis to deliver solutions that improve decision-making during crisis operations and develop innovative answers to challenging safety and security problems. Our applied expertise allows first responders, emergency managers, public health and agriculture professionals, homeland security practitioners, and corporate and citizen partners to integrate risk-management policy, planning, and operations and to develop and sustain prevention, protection, response, and recovery capabilities at a national level.
Click to read more about SAS work on Climate Change and Security, Food and Agriculture, and Public Health Emergency Preparedness and Response.
View and download the SAS Capabilities Overview below.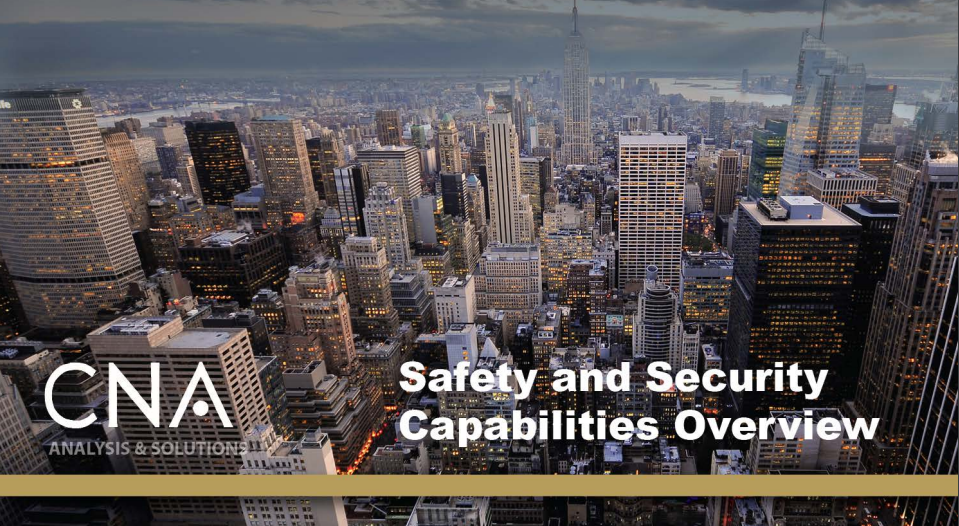 ---
SAS in the News
October 3, 2018
David Kaufman says, "People turn to the places of support in disasters that they turn to in everyday situations."
NEMA: "NEMA: Annual Forum"
August 29, 2018
James "Chips" Stewart says the IRB report "should be treated as new evidence. These agencies … should then use it to re-investigate to see whether these are in fact meritorious and warrants a change in their findings or classifications."
The Baltimore Sun: "Baltimore Police Commissioner Says Detective's Death Not a Closed Case, Despite Report's Finding of Suicide"
August 28, 2018
"The Independent Review Board was co-chaired by James "Chips" Stewart, a law enforcement consultant who sat on two prior such review boards that looked at controversial Baltimore Police cases in 2011 and 2013."
The Baltimore Sun: "Panel Report: Baltimore Police Det. Suiter Had 'Every Incentive' to Make Suicide Appear to Be Murder"
August 24, 2018
Thomas Woodmansee writes, "Introducing a BWC program to your organization and community is complex, which is why it is important to establish comprehensive, effective, and customized training for your agency, your officers, your criminal justice partners, the media, and the public."
BWC Training and Technical Assistance: "In View Commentary: The Importance of Developing Your Own BWC Training"
July 23, 2018
Michael Kofman says, "In terms of establishing viable air defenses against opponents with fifth generation aircraft, it's quite clear how Russia is trying to tackle the problem of stealth."
The National Interest: "War in the Sky: Russia's S-400 vs. America's Stealth F-35 and F-22 (Who Wins?)"