This chapter:


Other chapters:
At the close of FY 1999, the Total Force stood at just under 1.4 million active duty members and nearly 871,000 Selected Reservists. A booming economy, with full employment, increasing college enrollment rates, not to mention attitudes on the part of youth that may not be in sync with military enlistment, present challenges to recruiting. Recruiting initiatives must inspire and maintain the volunteer spirit among men and women and majority and minority members alike. Attracting and keeping quality troops cannot be taken for granted. In the past, recruiting goals were met in the face of the declining male youth population of the 1980s in large part because of enlistment and retention trends of minorities and women. Data for the past half century are shown in Figure 1.1, with some projections for the future.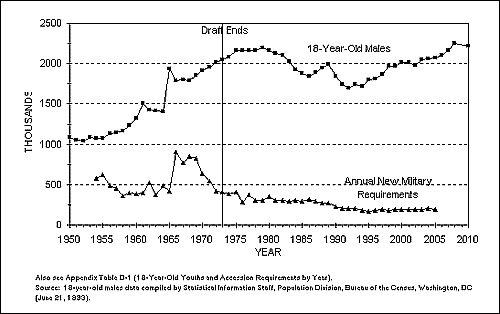 Figure 1.1. The population of 18-year-old males and Service non-prior service (NPS) recruiting requirements for fiscal years 1950–2010 (projected).
Recruiting initiatives are being devised to target those bound for two- and four-year college programs, promising high school dropouts, and Hispanic youth. The statistics presented in this report suggest that women remain an underutilized resource.

---