CNA's Integrated Ship Database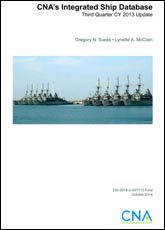 CNA's Integrated Ship Database contains selected information on particular ships throughout the fleet's history. The database has been compiled from authorized online U.S. Navy and U.S. government sources, including:
With the database, you can see the makeup of the Navy's Battleforce. You can find where ships are in their life cycle—authorized by Congress, under construction, in commission/in service, stricken from the Register, or disposed.
For additional detail on the layout of the database and for instructions on how to use it, please refer to our overview in the September 2013 update or our original 2005 User's Manual.
CNA's Integrated Ship Database was developed by Greg Suess, Ph.D. and is maintained by research analyst Clinton Copeland, Ph.D. (703.824.2928) and advisor Lynette McClain (703.824.2855). If you have any questions, please contact us. We also welcome your thoughts and suggestions on improvements to this product.
2015
September 2015
March 2015
2014
December 2014
September 2014
June 2014
March 2014
2013
December 2013
September 2013
June 2013
March 2013
Database Archive
(This page was last updated on June 2, 2017)
---
Data Sources