Promoting Civilian Protection during Security Assistance: Learning from Yemen
Author: Larry Lewis
For four years, the United States provided the Saudi-led coalition with military equipment and assistance used in its campaign in Yemen. During that time, the U.S. has wrestled with and debated both the legality and wisdom of its support. After four years of conflict in Yemen, the U.S. should be asking: what lessons can be learned from four years of support to the Saudi-led coalition? In light of the significant civilian protection concerns seen in Yemen, is there a way to get better outcomes from security assistance activities? This report aims to answer those questions. We analyze U.S. support to the Saudi-led coalition and identify two gaps in policy and information, respectively. We also examine the timely issue of better protecting health care in the midst of armed conflict. In this report, we provide a policy framework for including civilian protection considerations as part of security assistance.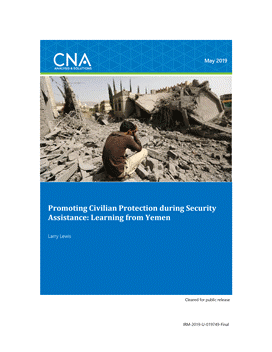 Recommendations for U.S. Government
Change arms sales policy and Foreign Military Sales agreements to introduce civilian protection as a criterion for approval and continuance of support.
Expand advising and mentoring on civilian protection during hostilities, mandated as a condition of assistance.
Analyze operational outcomes of U.S. assistance through a new process of operational end-use monitoring.
Work proactively with partners through training and education to build a foundation for civilian protection before conflict begins.
Include health-care-specific considerations such as deconfliction measures, technical solutions to improve situational awareness, and the promotion of the safety of health care under U.N. Security Council Resolution 2286.
Recommendations for States, the U.N. and NGOs
States should provide data to policy-makers and legislators to enable an evidence-based approach to civilian protection challenges with partners.
The U.N. and NGOs should standardize reporting and evidentiary standards for alleged civilian casualty incidents to improve the ability of militaries, the U.N. and NGOs to work together.
States should act on U.N. Security Council Resolution 2286 to develop effective measures for protecting medical facilities and services.