The Strategies for Policing Innovation Initiative, Reflecting on 10 Years of Innovation
Authors: Christopher M. Sun, James R. "Chip" Coldren, Jr., Keri Richardson, and Emma Wohl
Street robberies, substance abuse, repeat violent offenders and gun violence are the realities faced by police every day in communities throughout America. However, strategies and innovations honed over the past decade that are grounded in the use of research and technology have helped police departments dramatically improve outcomes for the communities they serve.
Many of these advancements are the direct result of a 10-year effort called Strategies for Policing Innovation (SPI) spearheaded by the federal Bureau of Justice Assistance working with 57 law enforcement agencies and CNA, a Washington-based non-profit research organization.
SPI: Reflections on 10 Years of Innovation provides an in-depth look at the strategies and innovations participating police departments have put into place and examines if, how and why they have been effective in reducing violent crime, homelessness and substance abuse.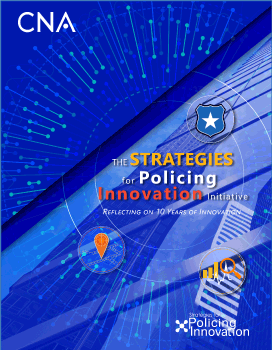 SUMMARY VIDEO discusses how and why SPI strategies have been an effective tool for police departments for the past decade.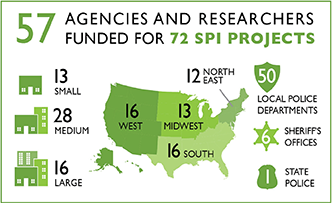 Since the inception of SPI in 2009, BJA has funded 57 agencies that have implemented 72 SPI initiatives.
DETAILS
Copyright: CNA Corporation
Pages: 20
Document Number: IIM-2018-U-018471
Year: 2019
MEDIA CONTACT
Liza Cordeiro | Sr. Advisor Marketing, IPR
202.650.4456 | cordeirol@cna.org
John Stimpson | Communications Associate
703.824.2689 | stimpsonj@cna.org

This report examines SPI's accomplishments since its inception in 2009 and explores some of the major themes across SPI initiatives in both policing and policing research, including the following:
Reductions in violent crime
Improved crime analysis capabilities in police agencies
Evolution of research partnerships with SPI sites
Collaborative partnerships with agencies, organizations, and community stakeholders
of technology into policing
Five core goals provide the foundation for SPI
Creating sustainable partnerships between law enforcement and researchers
Using technology, intelligence, and data in innovative ways
Enhancing collaboration within law enforcement agencies, with external agencies, and with the communities these agencies serve
Promoting evidence-based practices in law enforcement agencies
Developing sound strategies for sustaining evidence-based innovations beyond the project's funding period
To achieve these goals, SPI sites engage in five key policing innovation practices
Performance Measurement and Research Partnerships
Strategic Targeting
Making Better Use of Intelligence and Other Data and Information Systems
Managing and Sustaining Organizational Change
Outreach and Collaboration