China's Presence in the Middle East and Western Indian Ocean: Beyond Belt and Road
Authors: Jeffrey Becker, Erica Downs, Ben DeThomas, Patrick deGategno
Over the past decade, China's presence in the Middle East and Indian Ocean has expanded significantly. While great attention has been paid to China's growing economic presence as part of Beijing's Belt and Road Initiative, in reality, China's activities in the region had been increasing well before the start of Xi Jinping's signature policy initiative. Moreover, this growth has occurred across a wide range of domains, including military, diplomatic, economic, and even informational.
How is China's presence in the Middle East and Western Indian Ocean evolving, and what does it mean for the United States and its equities in the region? This study examines China's growing presence in 23 states throughout the Middle East, East Africa, and Western Indian Ocean. It analyzes the drivers of China's growing presence in this region, as well as China's various diplomatic, informational, military, and economic domains. By doing so, this study seeks to move the discussion of China's growing global activities beyond discussions of Belt and Road, provide a more comprehensive understanding of how China's presence in the Middle East and Western Indian Ocean region is evolving, and improve our understanding of what these changes mean for the U.S. Navy and U.S. national security interests more broadly.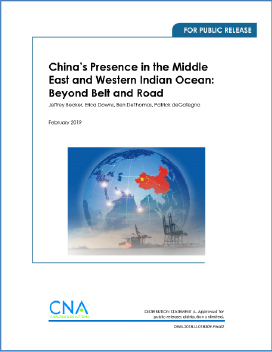 SUMMARY VIDEO describes how the People's Liberation Army is participating in—and benefiting from—China's growing regional presence.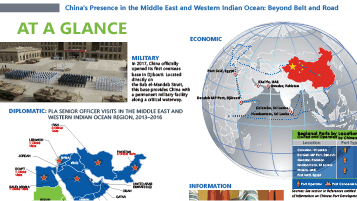 AT A GLANCE highlights the military, diplomatic, economic and information aspects that strategically support Chinese foreign policy in the Middle East and Western Indian Ocean region.
DETAILS
Copyright: CNA Corporation
Pages: 180
Document Number: DRM-2018-U-018309-Final2
Year: 2019
MEDIA CONTACT
Christine LaPaille | Director of Communications
703.824.2693 | lapaillec@cna.org
John Stimpson | Communications Associate
703.824.2689 | stimpsonj@cna.org

The report identifies five key drivers behind China's security and economic presence in the region:
The region's global strategic importance as a nexus connecting North America and Europe to Asia
Access to important maritime chokepoints in the Middle East, especially for oil imports
Supporting domestic economic objectives including upgrading industry and reducing overcapacity in certain domestic industries
The PLA Navy's mandate to protect growing numbers of Chinese citizens and investments in the region
Combating domestic terrorism through bilateral agreements that could deny external support to Chinese separatists
The report sees reasons why the Chinese navy's ability to operate in the Middle East and Western Indian Ocean will likely increase in the near to medium term. China is commissioning more modern naval ships, some of which may be deployed to the Indian Ocean. The PRC government has taken steps to leverage China's large commercial shipping fleet to support military operations. And China can use its Djibouti base as a logistics center, and possibly as a command‑and‑control hub, in the future. China may even look for a "second Djibouti" in the region, and the report analytically examines several likely locations for such a base.
As a result of this comprehensive analysis of China's presence in the region, the CNA authors make three sets of recommendations:
Prepare for a changing operational environment with an increased likelihood of People's Liberation Army (PLA) intervention in unstable states or unplanned encounters between the U.S. Navy and the Chinese military or civilians.
Track Chinese regional activities to help plan a targeted response. Key indicators can point to where China is focusing its presence.
Develop a three-pronged approach to countering China's messaging.

Continue to highlight the positive aspects of U.S. presence in the region.
Avoid giving the impression that the United States expects countries to "choose sides."
Highlight the United States' respect for national institutions and the rule of law.