Fiscal Year 2002: Military Opportunities and Combat Experiences
Offering entry-level positions, with paid training and numerous benefits, the Armed Services is one of the largest employers in our nation. In FY 2002, nearly 182,000 non-prior service (NPS) applicants were accepted into the enlisted ranks and close to 22,000 new officers joined the officer corps of the Active Components. In addition, about 73,000 NPS enlistees began serving their country in the Selected Reserve during FY 2002. That's almost 277,000 job openings annually. At the close of FY 2002, the Total Force stood at just under 1.4 million active duty members and just over 874,000 Selected Reservists. (Data for the past half century are shown in Figure 1.1, with some projections for the future.)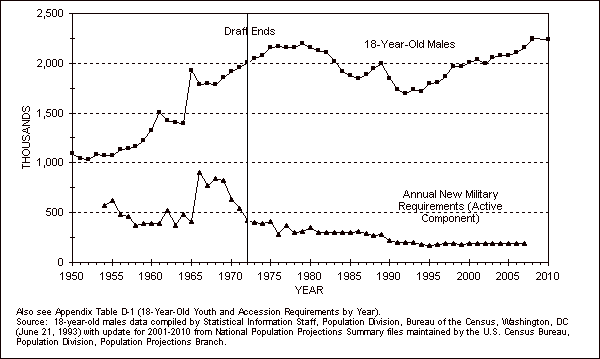 Figure 1.1. The population of 18-year-old males and Active Component non-prior service (NPS) recruiting requirements for fiscal years 1950–2010 (projected).
The military provides numerous employment opportunities to today's youth. Members of the Services receive training and work experience in a multitude of occupational specialties – from infantry to maintenance and repair to medical to equipment operator to administrator. Servicemembers manage, operate, maintain, and coordinate the use of complicated weapon systems gaining critical technical and leadership experience as they progress through the ranks. With close to 300,000 new jobs each year, the military provides training and experience in a diverse array of technical specialties.
The Armed Forces is host to one of the most diverse workforces in our country, not solely in terms of the numerous types of jobs or missions available. Men and women from various racial and ethnic groups, of different social standing, and from all geographic areas have equal opportunity to seek a military career, provided they meet the basic entry requirements of the Services. Diversity in the forces is now a fact. The Services enlist and commission men and women from many walks of life, who perform together as a cohesive team to accomplish their missions as they admirably serve to defend our nation.
Serving in the military is not without sacrifice or burden. Servicemembers contribute to national defense in a variety of ways, through warfighting, peacekeeping, humanitarian, and other missions. No single group should bear the brunt of the burden, particularly during times of war, nor profit from the benefits of training, experience, and prestige. Thus, it is important for the Services to strive for a representative force.
With respect to race/ethnicity, the Armed Forces maintain a fairly representative workforce. Blacks continue their historically strong military presence in the enlisted ranks (22 percent), at levels higher than population proportions (13 percent). However, the proportion of Black accessions in FY 2002—less than 16 percent—is significantly less than in FY 2001 when nearly 20 percent of all NPS enlisted accessions were Black. Despite the decrease in Black recruits, this minority group continues to be overrepresented among new Servicemembers compared to the comparable civilian population.
Recruiting is affected by a variety of interacting factors, such as, but not limited to, economic and military conditions. Further, racial/ethnic, as well as gender, groups react in different ways to changes in the various issues impacting the recruiting environment. For example, recent increases in combat missions, such as Operations Enduring Freedom and Iraqi Freedom (collectively the Global War on Terror), following the terrorist attacks of September 11, 2001 have had an impact, if only temporary, on propensity to join the military. DoD Youth Poll 4 indicates that propensity to enlist following the terrorist attacks increased for Whites and males. With this increase in propensity, the Services experienced an increase in White enlistment proportion (both male and female) with a concomitant decrease in Black enlistment proportion.
There is evidence that war tends to polarize youth's likelihood to consider the military. That is, individuals who were previously likely to join the military are even more likely to join during war. On the other hand, individuals who were previously unlikely to join the military are even less likely to consider the military when the nation is sending men and women to combat. However, there seem to be differential effects by race/ethnicity.
Future effects on propensity and recruiting will depend on the outcomes of the continuing combat and peacekeeping missions, such as the duration of the missions, the number of casualties, and the perceived success of the war. Continued monitoring of propensity among race/ethnic groups and representation within the ranks is important to maintaining a diverse force.
Blacks have achieved representation parity in the officer corps. Hispanics remain underrepresented but are making gains within the enlisted ranks and officer corps. Hispanic representation is important to monitor in light of increasing Hispanic population proportions and related issues of citizenship, English language proficiency, and high school graduation rates.
Unlike racial and ethnic minorities, the role of women in the military is still unsettled if not controversial. Although women comprise half of the youth population, in FY 2002, they made up only 17 and 19 percent of enlisted and officer accessions, respectively. However, these figures are close to all-time highs in the representation of women entering the military. Before the All Volunteer Force, in FY 1964, less than 1 percent of enlisted accessions were women. Women climbed to 5 percent in 1973 and shortly thereafter, they topped 10 percent. Today, that figure has almost doubled, even in the face of a more streamlined force.
Although much progress has been achieved with regard to gender equity, much work remains. The representation of women has increased and many previously closed positions have been opened to women. The military continues to consider current and future roles for women in uniform.
---