At the close of FY 2000, the Total Force stood at just under 1.4 million active duty members and more than 865,000 Selected Reservists. (Data for the past half century are shown in Figure 1.1, with some projections for the future.) A booming economy, with full employment, increasing college enrollment rates, not to mention attitudes on the part of youth that may not be in sync with military enlistment, present challenges to recruiting today's youth for tomorrow's military. Recruit marketing, amid the multiple options available to the next generation, must not only reach youth, but inspire the volunteer spirit among them, men and women, majority and minority members alike. Recruiting challenges of recent years have led the Services to consider alternative venues for marketing the military, including, but not limited to the internet, auto racing, as well as other professional sporting events. Current recruiting initiatives aimed at addressing the various choices youth have as they enter the workforce are being devised to target those bound for two- and four-year college programs, college dropouts and stopouts, promising high school dropouts, and Hispanic youth.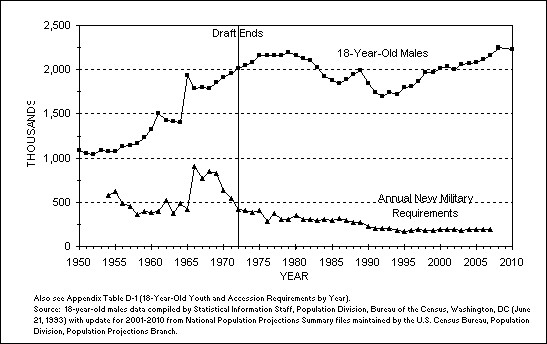 Figure 1.1. The population of 18-year-old males and Service non-prior service (NPS) recruiting requirements for fiscal years 1950–2010 (projected).
Attracting and keeping quality troops cannot be taken for granted. In the past, recruiting goals were met in the face of the declining male youth population of the 1980s in large part because of enlistment and retention trends of minorities and women. Minority groups may indeed play a larger role in the future of the military as American society becomes increasingly diverse. By 2020, when babies born today will be eligible to join the military, the Census Bureau projects an increasing minority population, particularly for Hispanics and Asian and Pacific Islanders. Projections for the next 100 years portend a majority minority scenario, with a nearly 50-50 split among 18- to 24-year olds in 2040. Such projected changes in the civilian population warrant continued monitoring of representation in the military. Particular attention must be paid to equal opportunity policies and perceptions of fair treatment in the Services by members of all racial/ethnic groups.