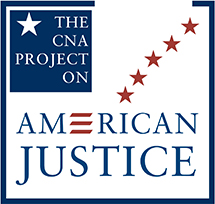 Unique Justice Group Launched to Explore Policing and Justice Issues in America
For Immediate Release
Contact: Liza Cordeiro, Sr. Marketing Advisor
cordeirol@cna.org, 202-650-4456
Arlington, Va. — An exclusive group of highly talented criminal justice practitioners and researchers gathered today for the first ever meeting of The CNA Project on American Justice. The CNA Project on American Justice team members will lead a national conversation around top justice issues, solutions, and innovations.
"We saw a need to bring together some of the nation's top researchers and practitioners to ask hard questions related to policing, criminal justice, and incarceration," said CNA Safety and Security Vice President and Director David Kaufman. "The project will highlight critical and emerging issues facing the justice system, and identify policy options and research opportunities that can help us confront them effectively as a field of practice."
For the first cohort, The CNA Project on American Justice will focus on issues in policing. Over the next 12 months, members will produce a report identifying the most pressing issues in the justice system, as well as podcasts and articles on their research, recommendations, and experience in the justice system.
The CNA Project on American Justice team members include:
Dr. Jennifer E. Cobbina
Associate Professor, School of Criminal Justice, Michigan State University
Annette A. Eckert
Retired Judge, 20th Judicial Circuit of Illinois
Dr. Janice Iwama
Assistant Professor, American University
Dr. Ojmarrh Mitchell
Associate Professor, School of Criminology and Criminal Justice, Arizona State University
Dr. Renée J. Mitchell
Sergeant, Sacramento Police Department
Danny Murphy
Deputy Commissioner, Baltimore Police Department
Cory Nelson
Captain, Madison Police Department
James Nolette
Assistant Chief, Fayetteville Police Department
Dr. Eric L. Piza
Associate Professor, John Jay College of Criminal Justice, City University of New York
Dr. Joseph A. Schafer
Professor, St. Louis University
To learn more about The CNA Project on American Justice, contact CNA Sr. Marketing Advisor Liza Cordeiro at cordeirol@cna.org or 202-650-4456.
CNA is a nonprofit research and analysis organization dedicated to developing actionable solutions to complex problems of national importance. With nearly 700 scientists, analysts and professional staff, CNA takes a real-world approach to gathering data. Its one-of-a-kind field program places analysts on carriers and military bases, in squad rooms and classrooms, and working side-by-side with a wide array of government decision-makers around the world. In addition to defense-related matters for the U.S. Department of the Navy, CNA's research portfolio includes criminal justice, homeland security, energy security, water resources, enterprise systems and data analysis, and education.
Note to writers and editors: CNA is not an acronym and is correctly referenced as "CNA, a research organization in Arlington, VA."