For Immediate Release
Contact: Liza Cordeiro, Sr. Marketing Advisor
cordeirol@cna.org, 202-650-4456
A NEW STRATEGIES FOR POLICING INNOVATION (SPI) REPORT EXPLORES HOW POLICE DEPARTMENTS ARE USING TECHNOLOGY AND DATA TO FIGHT CRIME
Arlington, Va. — A just-released report by CNA, SPI: Reflections on 10 Years of Innovation, is an in-depth look at the strategies and innovations police departments across the United States have put into place to reduce crime in rural and urban communities. The report examines if, how and why SPI strategies have been effective in reducing violent crime, homelessness and substance abuse.
SPI represents a cutting edge approach that helps police agencies use data to figure out what works in crime-prevention and crime-reduction initiatives.
"Street robberies, substance abuse, repeat violent offenders and gun violence are the realities faced by police every day in communities throughout America," said Chip Coldren, managing director of Justice Programs in CNA' s Safety and Security Division.
"However, SPI strategies and innovations honed over the past decade that are grounded in the use of research and technology have helped police departments dramatically improve outcomes for the communities they serve."
The SPI program includes fifty-seven law enforcement agencies and seventy-two different SPI projects which have been launched over the past 10 years in partnership with the Bureau of Justice Assistance.
"A decade ago, police departments were feeling the impact of budget cuts due to the recession; methodological, rigorous research on policing strategies was nearly non-existent; and, the traditional taskforce approach to fighting crime was getting stale," added Coldren.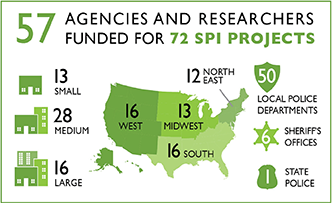 SPI sites engage in five key policing innovation practices:
Systemic research is used to evaluate the effectiveness of new initiatives and to help support resource allocation decisions.
Analysis is conducted to help focus police on the small percentage of people in a community responsible for large percentages of the crime.
Using intelligence and data from a wide variety of sources in the community –not just police department data—to develop crime reduction strategies.
Sustain evidence-based approached through training, revised policies and directives, improved communication and interdisciplinary working groups within the department.
Outreach and collaboration with external government, criminal justice and community stakeholders.
Strategies and innovations in SPI cities include:
Determining what works to reduce violent crime
Los Angeles honed-in on the district where almost 1/3 of its gun crimes occurred and reduced homicides by 22% per month using a research-based, multi-pronged program that gives officers tools for proactive police work.
Philadelphia, Kansas City, MO and Cambridge, MA aimed to reduce violent crime by implementing either place-based or offender-focused policing strategies to find out which strategy worked best to reduce crime.
Using cutting edge technology
Detroit, Miami Beach, Milwaukee and Phoenix acquired new surveillance technology based on research indicating that people improve their behavior when they know they are being recorded.
Establishing creative community partnerships
Sacramento partnered with a non-profit organization, the Sheriff's Department and a university to target its large, unsheltered homeless population. By connecting them with community and social service programs, the partnerships, working together, are finding solutions to improve the living conditions and quality of life of chronically homeless people.
Find the full report: The Strategies for Policing Innovation Initiative: Reflecting on 10 Years of Innovation by visiting https://www.cna.org/research/SPI or contacting Liza Cordeiro, Sr. Marketing Advisor at 202-650-4456 or cordeirol@cna.org
CNA is a nonprofit research and analysis organization dedicated to developing actionable solutions to complex problems of national importance. With nearly 700 scientists, analysts and professional staff, CNA takes a real-world approach to gathering data. Its one-of-a-kind field program places analysts on carriers and military bases, in squad rooms and classrooms, and working side-by-side with a wide array of government decision-makers around the world. In addition to defense-related matters for the U.S. Department of the Navy, CNA's research portfolio includes criminal justice, homeland security, energy security, water resources, enterprise systems and data analysis, and education.
Note to writers and editors: CNA is not an acronym and is correctly referenced as "CNA, a research organization in Arlington, VA."