For Immediate Release


Contact: Christine LaPaille, Director of Communications
lapaillec@cna.org, 703-824-2693
CNA Opens New Center for Autonomy and Artificial Intelligence
The center will provide technical, strategic and operational insights and connect government and private stakeholders to make sure the U.S. is at the forefront in this rapidly evolving area.
Arlington, Va. — The launch of CNA's Center for Autonomy and Artificial Intelligence (CAAI) will bring CNA's unique "scientists on the front lines" research techniques to tomorrow's battlefield. CAAI officials said advancements in AI related technologies will present challenges and unexpected opportunities, particularly for the Department of Defense (DOD), that CNA has the distinct experience and capabilities to address.
"From our banks and credit cards, to Amazon shopping, to chatting with customer support, to medical care, AI is impacting our lives in positive ways," said Dr. Larry Lewis, the center's director. "There are also challenges associated with AI and autonomy. For example, we have passed a tipping point where development of key technology is dominated by the commercial sector, not the military. That means this technology is not held exclusively by the U.S.; it can be leveraged by any state — or non-state actor — able to adapt commercial developments for military applications. The U.S. has moved from having a corner on advanced military technology to being in a race with others."
Lewis said problems like that are exactly what the center will seek to solve, applying CNA's rich legacy of learning from data and careful analysis to emerging technologies. "AI is not just any other technology; some commentators have called AI the third revolution in warfare, the first two being gunpowder and nuclear weapons," he said.
In a preview of what to expect from the CAAI, the launch event included a panel discussion on the Opportunities and Challenges of Autonomy and AI in Military Operations. The four panelists from the Navy, the Office of the Secretary of Defense, John Hopkins University, and CNA, all agreed that advancements in the field will create important and difficult decisions for the military and the United States in the future. CAAI's approach to analysis and problem-solving will greatly aid in decision-making.
Panelist Sarah Sewall of John Hopkins University added, "The U.S. can similarly model, I believe, the second-order positive benefits of autonomy for the conduct of future warfare. Effectiveness, precision, improved discrimination, reduced collateral damage; these are all potential benefits that we can reap from autonomy. This Third Offset can help the U.S. enjoy the same benefits of legitimacy and enhanced freedom of action." Joe Horvath, Deputy for Integration, Interoperability & Unmanned Systems Warfare Integration Division (OPNAV N9I), said the Navy faces "increasing challenges to maintain our warfighting advantages" as unmanned systems combined with autonomy and artificial intelligence enter the battlefield.
CNA has already published work on autonomy and AI. "AI, Robots, and Swarms" begins to explore the broad set of conceptual, technical and operational challenges associated with AI. CNA's report "Insights for the Third Offset" examines key challenges for autonomy and AI through the lens of what is known about U.S. military operations and processes, and gives specific recommendations for actions that can be taken now to overcome challenges DOD can expect to face.
Dr. Lewis finished his remarks by sharing his vision for CAAI's contributions. "We know there are challenges — some that are unique to the technology and others that are common to U.S. operations and processes in general. If we start identifying and working on them now, we can avoid some of the problems we would otherwise face later, when it's much harder and more expensive to fix after the fact. To this end, we have created the center — to help the U.S. get left of boom for this critical area, which is foundational to the future of warfare."
---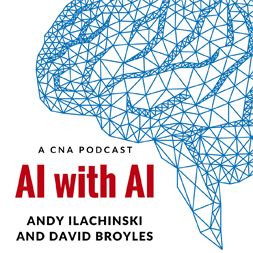 CNA is a nonprofit research and analysis organization dedicated to developing actionable solutions to complex problems of national importance. With nearly 700 scientists, analysts and professional staff, CNA takes a real-world approach to gathering data. Its one-of-a-kind field program places analysts on carriers and military bases, in squad rooms and classrooms, and working side-by-side with a wide array of government decision-makers around the world. In addition to defense-related matters for the U.S. Department of the Navy, CNA's research portfolio includes criminal justice, homeland security, energy security, water resources, enterprise systems and data analysis, and education.
Note to writers and editors: CNA is not an acronym and is correctly referenced as "CNA, a research organization in Arlington, VA."