For Immediate Release
Contact: Whitney Doll, Senior Communications Specialist
dollw@cna.org, 703-861-1351
Ambassador Maura Harty Named Chair of CNA's Board of Trustees
Arlington, VA — Today CNA President and CEO, Katherine A.W. McGrady, Ph.D., announced the appointment of Ambassador Maura A. Harty as the new Chair of CNA's Board of Trustees.
"Ambassador Harty has been a tremendous supporter of CNA for many years. She's been an active member of our Board since 2010. I'm excited she has accepted the position of Board Chair, and I look forward to partnering with her to build upon our tradition of analytical excellence. Her leadership style, based on service, integrity and mission-focus, will be especially beneficial as CNA celebrates its 75th anniversary in the coming months," said Dr. McGrady.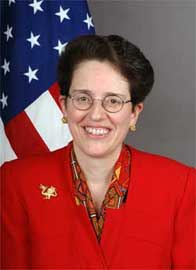 Ambassador Harty had a distinguished 27-year career as a Foreign Service Officer with the U.S. Department of State. She served as Assistant Secretary of State for Consular Affairs, Special Assistant to Secretary of State George P. Shultz, Executive Assistant to Secretary Warren Christopher, U.S. Ambassador to the Republic of Paraguay and Executive Secretary of the Department of State under Secretary Colin Powell. In addition, Ambassador Harty created the Department's Office of Children's Issues to address the challenges of intercountry adoption and international parental-child abduction. As Assistant Secretary, Ambassador Harty made fundamental changes in visa policies in the aftermath of the September 11th attacks and fostered a strong leadership culture to more readily respond to those changes.
After retiring from the State Department, Ambassador Harty served as the Senior Policy Director at the International Centre for Missing and Exploited Children and Director of the Koons Family Institute on International Law and Policy. She was then president and CEO of the Make-A-Wish Foundation of the Mid-Atlantic from 2010 to 2012 and is now the president and CEO of the International Centre for Missing and Exploited Children. Her other Board memberships include FCi Federal and the Senior Living Foundation of the Foreign Service.
CNA is a nonprofit research and analysis organization dedicated to developing actionable solutions to complex problems of national importance. With nearly 700 scientists, analysts and professional staff, CNA takes a real-world approach to gathering data. Its one-of-a-kind field program places analysts on carriers and military bases, in squad rooms and classrooms, and working side-by-side with a wide array of government decision-makers around the world. In addition to defense-related matters for the U.S. Department of the Navy, CNA's research portfolio includes criminal justice, homeland security, energy security, water resources, enterprise systems and data analysis, and education.
Note to writers and editors: CNA is not an acronym and is correctly referenced as "CNA, a research organization in Arlington, VA."