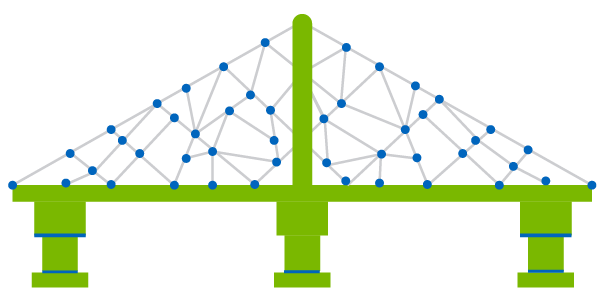 Bridging the Gap Between Research, Policy and Strategy. Between Short-term and Long-term. Between People and Technology.
Unprecedented cybersecurity challenges loom just beyond the horizon. Yet today's operational security agenda is too narrow in scope to address the wide range of issues likely to emerge in the coming years.
To address this gap, the UC Berkeley Center for Long-Term Cybersecurity (CLTC), CNA's Institute for Public Research (CNA), and the World Economic Forum's Global Centre for Cybersecurity (C4C) initiated Cybersecurity Futures 2025, a global initiative that aims to shape a forward-looking research and policy agenda that is intellectually and practically robust—and broadly applicable across countries and regions
The goal of Cybersecurity Futures 2025 is to help decision-makers in government, industry, and civil society reduce frictions, seize opportunities for cooperation, and better prepare for the future.
Cybersecurity Futures 2025 is sponsored by HP Inc. and Qualcomm Technologies, Inc., with additional support from Symantec and CyberCube.

Anticipating Cybersecurity Challenges
Our future-looking scenarios tell logical stories about how forces of change from a variety of sources—including technology, economics, human behavior, corporate strategy, government policy, and social and ethical dimensions—could overlap and combine to create a cybersecurity landscape in 2025 that is meaningfully different from what we face today. This future problem set involves a broader set of actors, has greater stakes, sits on different technological foundations, and engages core human values in a novel way. The scenarios are not predictions, as none of the stories will 'come true' in a strict sense; however, elements from each of these scenarios are likely to be a part of the future digital environment.
Download the report to read the scenarios in full, and get a glimpse into how your world may change by the year 2025.

Interact with the Project
In addition to the report, we produced four short videos depicting the different Cybersecurity Futures 2025 scenarios. In just 20 minutes, you can virtually experience these possible futures and interact with some of the key ideas and insights. An introductory video featuring Walter Parkes situates the scenarios and explains how to use them.
Following the scenario videos, we invite you to participate in a brief exercise designed to help decision-makers harness findings from this project for their own organizations' needs. You'll walk away with a customized framework based upon your priorities that will help you think more broadly about how emerging trends could re-shape your future—and possible actions you could take to adapt.

Preparing for a Changing Cybersecurity Landscape
In 2018, we created a set of scenarios depicting possible futures for the year 2025, highlighting the potential impacts of artificial intelligence, ubiquitous sensors, quantum computing, and other emerging technology trends. We then convened a series of international workshops to engage experts and decision-makers in dialogue about the challenges and opportunities the scenarios depict.
By understanding how governments, firms, and societies around the world think differently about current and emerging cybersecurity challenges, we can help institutional leaders across sectors better prepare for a rapidly changing technology security environment.
The resulting report, "Cybersecurity Futures 2025: Insights and Findings," offers a set of three overarching observations, and proposes five new landscape elements that reframe the cybersecurity decision-making environment.

In 2019, we plan to extend the scenarios and to bring the insights from this project to new audiences, locations, and settings. As a start, CLTC and CNA will host a Cybersecurity Futures 2025 session at RSA Conference 2019 in San Francisco on March 6, 2019. If you are interested in exploring a partnership related to this work, receiving a more detailed briefing on specific elements, or tailoring these materials to meet your organization's needs, please contact us.