CNA Space Advisory Council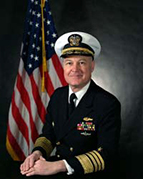 Admiral Henry Goodman Chiles Jr., USN (Ret.)
Admiral Chiles is the former Commander in Chief of the U.S. Strategic Command (STRATCOM), the first Navy admiral to hold that position. The primary focus of his tenure in the mid-1990s was adjusting the structure and mission for U.S. strategic nuclear forces in a post‐Cold War environment. Chiles is a graduate of the U.S. Naval Academy, with a master's degree from Oxford University. After a career in the U.S. Navy of more than 35 years, Adm. Chiles retired in 1996.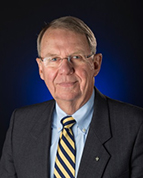 Vice Admiral Joseph W. Dyer, USN (Ret.)
Admiral Dyer was the Commander of the Naval Air Systems Command, responsible for research, development, test, evaluation, engineering, logistics and modernization for naval aircraft, UAVs, air-launched weapons and sensors. He was also the head of contracting activity for Naval Aviation's $37 billion procurement organization. Until July 2016, he chaired NASA's Aerospace Safety and Advisory Panel for almost 13 years. Currently, he is a consultant in the aerospace and defense markets and Chief Strategy Officer for the National Spectrum Consortium. In and out of uniform, he led many Department of Defense and industry reviews of challenged programs, acquisition and organizational strategies.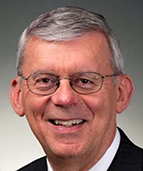 Colonel Richard W. McKinney, USAF (Ret.)
Richard McKinney was the Deputy Under Secretary of the Air Force for Space until his retirement in 2012, coordinating activities across the Air Force space enterprise. He also served as the co‐executive secretary for the Defense Space Council, providing oversight of the Space Virtual Major Force program and advising the DOD Executive Agent for Space. Prior to his position as the Deputy Under Secretary, Mr. McKinney advised the Secretary of the Air Force on restructuring of the Headquarters Air Force space management and responsibilities organization. He is currently an aerospace consultant and serves on the Aeronautics and Space Engineering Board of the National Academy of Sciences.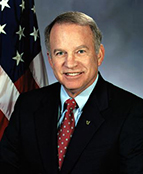 Colonel Gary E. Payton, USAF (Ret.) – Astronaut
Professor Gary Payton is a Distinguished Visiting Professor in the Schriever Chair in Astronautics at the U.S. Air Force Academy. From 2005 to 2010, he was the Deputy Under Secretary of the Air Force for Space Programs. He has also served as NASA's Deputy Associate Administrator for Space Transportation Technology, where he initiated, planned and led the X‐33, X‐34, X‐37 and DC‐XA flight test projects. He holds a master's degree in aeronautical and astronautical engineering from Purdue University. In 1985, he flew as a payload specialist on board the Space Shuttle Discovery in the first military flight of the space shuttle program.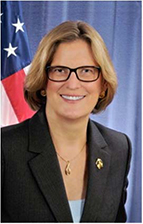 The Honorable Dr. Kathryn Dwyer Sullivan – Astronaut
Dr. Kathryn Sullivan has a long career as a distinguished scientist, astronaut and executive. She was one of the first six women to join the NASA astronaut corps in 1978 and holds the distinction of being the first American woman to walk in space. She flew on three space shuttle missions during her 15‐year NASA tenure, including the mission that deployed the Hubble Space Telescope. Dr. Sullivan was the Administrator of the National Oceanic and Atmospheric Administration from 2014 to 2017, having previously served as NOAA's Deputy Administrator and Chief Scientist.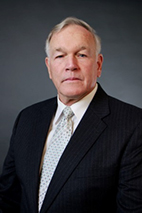 Lieutenant General Richard Zilmer, USMC (Ret.)
General Zilmer served for 36 years with the U.S. Marine Corps. His last active duty assignment was Deputy Commandant for Manpower and Reserve Affairs. In his prior role as U.S. Marine Corps Director of the Strategy and Plans Division, he testified on the role of space in the Marine Corps mission before a Senate committee hearing on Science, Technology and Space. Among the commands he has led are First Battalion, First Marines; 15th Marine Expeditionary Unit; Multinational Forces – West; and III Marine Expeditionary Force, Okinawa, Japan. General Zilmer holds a master's degree in national security and strategic studies from the College of Naval Warfare.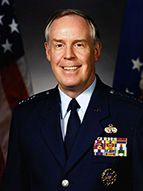 General Thomas Moorman Jr., USAF (Ret.)
General Moorman was the Vice Chief of Staff of the Air Force when he retired after 35 years in the military. Much of his Air Force career was focused on space, including positions as the Commander and Vice Commander of Air Force Space Command, responsible for the operation of Air Force space systems. After his retirement from the military, he became a partner with Booz Allen, responsible for the firm's Air Force and NASA business. He was also a signatory member of the Commission to Assess United States National Security Space Management and Organization, established by Congress in 2000.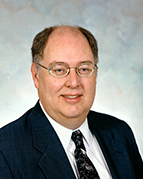 Mr. N. Wayne Hale
Mr. Hale was the Deputy Associate Administrator of Strategic Partnerships in the Space Operations Mission Directorate of NASA when he retired from government service in 2010, after a long career with the space agency. He had previously served as the Space Shuttle Program Manager and the Shuttle Launch Integration Manager, helping to lead the transformation of NASA Space Shuttle management culture to one that emphasized safety and mission success. He was a Space Shuttle Flight Director for 40 space shuttle flights. He is currently Director of Human Spaceflight & Energy Services for Special Aerospace Services.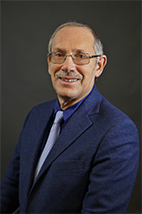 The Honorable Dr. Dov S. Zakheim – Council Chair
Dr. Zakheim chairs the Space Advisory Council. His career in national security has spanned government service, the private sector, academia and nonprofits. For the DOD, he was Under Secretary of Defense and Chief Financial Officer from 2001 to 2004 and Deputy Under Secretary for Planning and Resources. At Booz Allen Hamilton, he led the firm's support of U.S. combatant commanders worldwide. He has been an adjunct professor at the National War College, Yeshiva University, Columbia University, Georgetown University and Trinity College, Connecticut. Dr. Zakheim is Vice Chairman of the Foreign Policy Research Institute's Board of Trustees, a member of the Board of Control of the U.S. Naval Academy, and a Senior Fellow at CNA.